ProfiSeal Propellershaft Seal
Standard installation flange
Questions about the product?
Phone: +49 (0) 67 32/96 14 76
sales@profiseal.com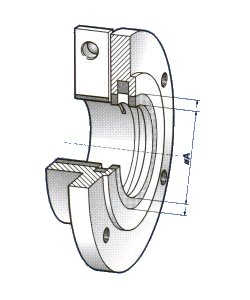 D Welle
A Stevenrohr
20
25
32…45 mm
30
35
40…60 mm
40
45
50…75 mm
50
55
60…90 mm
Length:
35 mm/Bz – 40 mm/Alu
Please provide outside diameter of your sterntube when ordering!
Other sizes on request
For easy installation of the propellershaft seal ProfiSeal on unflanged sterntubes, we propose the use of the ProfiSeal installation-flange. Additionally the flange allignes and centeres the seal with the sterntube and prevent you from sophisticated welding or machining processes. The ProfiSeal installation-flange is available standardized and premachined for the applicable shaft- sizes and is delivered to fit the outside diameter of your sterntube. Please refer to the table, showing the variation of sterntube diameters related to the shaft size, which could be matched by the ProfiSeal installation-flange.
If you replace a stuffing-box (sterntube flange already existing or welded to the sterntube) with the ProfiSeal, the usage of an adapter-ring might become neccessary to match the different hole patterns. We offer to manufacture this adapter-ring to your measure or suggestions. On request we also provide you, free of cost, with a dimensional drawing showing the proposed lay-out of the flange.
Further Questions? Please contact your service company or yard or ProfiSeal distributor.
Don't hesitate! They will be pleased to help you.