ProfiSeal Bulkhead Seal
ProfiSeal Bulkhead Seal 50 – 600 mm, full split design
Bulkhead seals are designed to seal bulkhead openings to waves and protect adjacent spaces from flooding. In the event of a leak, the sections adjacent to the bulkhead seal remain dry, allowing a safe return to port,
ProfiSeal bulkhead seals have a dry-running gap seal and are easy to install thanks to split housings and split sealing rings.
Optionally, the bulkhead seal can be pressurised with a sealing gas (e.g. compressed air, etc.). In this way, possible leakage can be kept at almost zero over a long period of time.
If required, ProfiSeal also offers fireproof bulkhead seals.
Questions about the product?
Phone: +49 (0) 67 32/96 14 76
sales@profiseal.com
Technical Features
dry running gap-seal
easy installation due to split housing and split seal rings
allows high shaft speed
allowed radial shaft movement: +/- 5 mm
Operating Limits
shaft diameter 50 … 600 mm
medium to seal seawater
temperature – 5° to + 70° C
operating pressure (p) max. 3 bar
gliding speed max. 40 m/s
Type approvals



Technical Data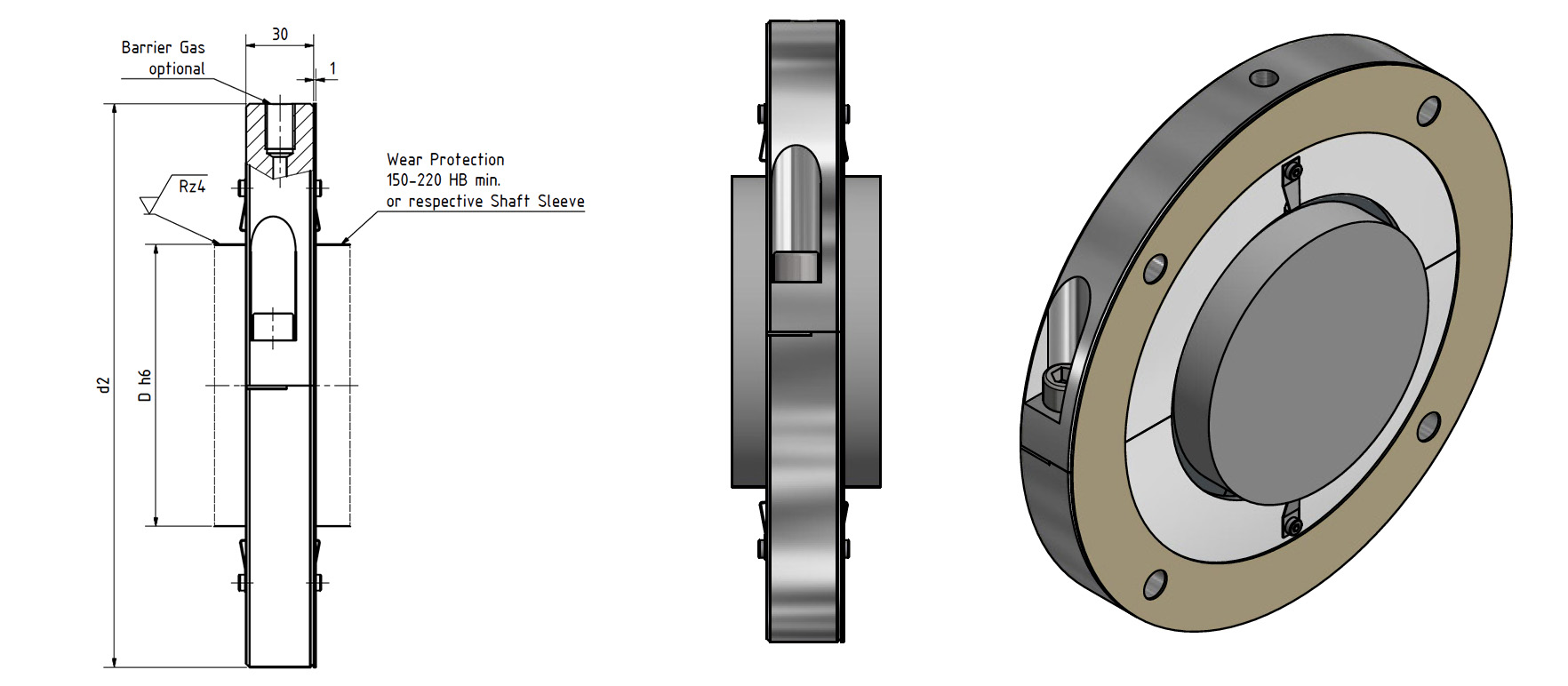 Exemplified dimensions (mm)
| | | |
| --- | --- | --- |
| D | d2 | PCD |
| 50 | 170 | 140 |
| 60 | 180 | 150 |
| 70 | 190 | 160 |
| 80 | 200 | 170 |
| 90 | 210 | 180 |
| 100 | 220 | 190 |
| 110 | 230 | 200 |
| 120 | 240 | 210 |
| 130 | 250 | 220 |
| 140 | 260 | 230 |
| 150 | 270 | 240 |
| 160 | 280 | 250 |
| 170 | 290 | 260 |
| 180 | 300 | 270 |
| 190 | 310 | 280 |
| 200 | 320 | 290 |
| 220 | 340 | 310 |
| 240 | 360 | 330 |
| 260 | 380 | 350 |
| 280 | 400 | 370 |
| 300 | 420 | 390 |
| 320 | 440 | 410 |
| 340 | 460 | 430 |
| 360 | 480 | 450 |
| 380 | 500 | 470 |
| 400 | 520 | 490 |
| 460 | 580 | 550 |
| 500 | 620 | 590 |
| 600 | 720 | 690 |
Other shaft sizes (D) and Imperial Sizes on Request

product information / download
Position mounting holes and connector (optional)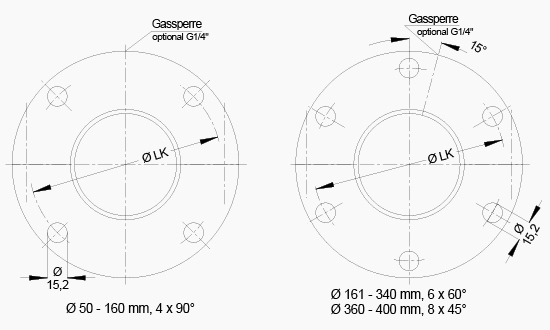 Optional
By applying a barrier gas to the Bulkhead Seal (pressurized air etc.) a possible leakage can be reduced to nearly zero, over a longer time period