ProfiSeal propellershaft
100 – 280 mm, water or oil lubricated
A propellershaft is part of the ship's shaft system and seals open or closed stern tube systems so that no water can penetrate and no lubricating oil can escape. Similar to a mechanical seal, it is virtually leak-free and leaves no oil or grease residues in the fairway. At the same time, penetration of dirty water into the bilge is prevented – thus eliminating costly disposal.
The ProfiSeal propellershaft has a shaft diameter of 20 to 90 millimetres and is available in both water- and oil-lubricated versions. The axial sealing concept prevents the shaft from running in, which is otherwise common with radial seals.
In addition to the propellershaft, we offer the Pneumostop unit, an inflatable standstill seal. This makes it possible to replace, repair or clean mechanical seals and propellershafts when the shaft is at a standstill without having to call in a shipyard.
Questions about the product?
Phone: +49 (0) 67 32/96 14 76
sales@profiseal.com
Technical Features
water or oil lubricated facetype seals
seawater resistant also in in aluminium-version, for open or closed sterntube-systems
easy installation
high lifetime even in extremely dirty waters
no shaft-wear like with radial type seals due to facetype design
allowed axial shaft movement: +/- 5mm
allowed radial shaft movement: +/- 2mm
Operating Limits
shaft diameter max 100 to 280 mm
medium to be sealed seawater, oil etc.
medium temprature seawater -5° to +40° C
oil -5° to +70° C
operating pressure (p) 0,1 to 2 bar*
gliding speed max. 10 m/s
flushing / cooling approx. 1 l/h per mm shaft diameter
*Applications above 0,5 bar have to be clearified technically with the manufacturer.


Technical Data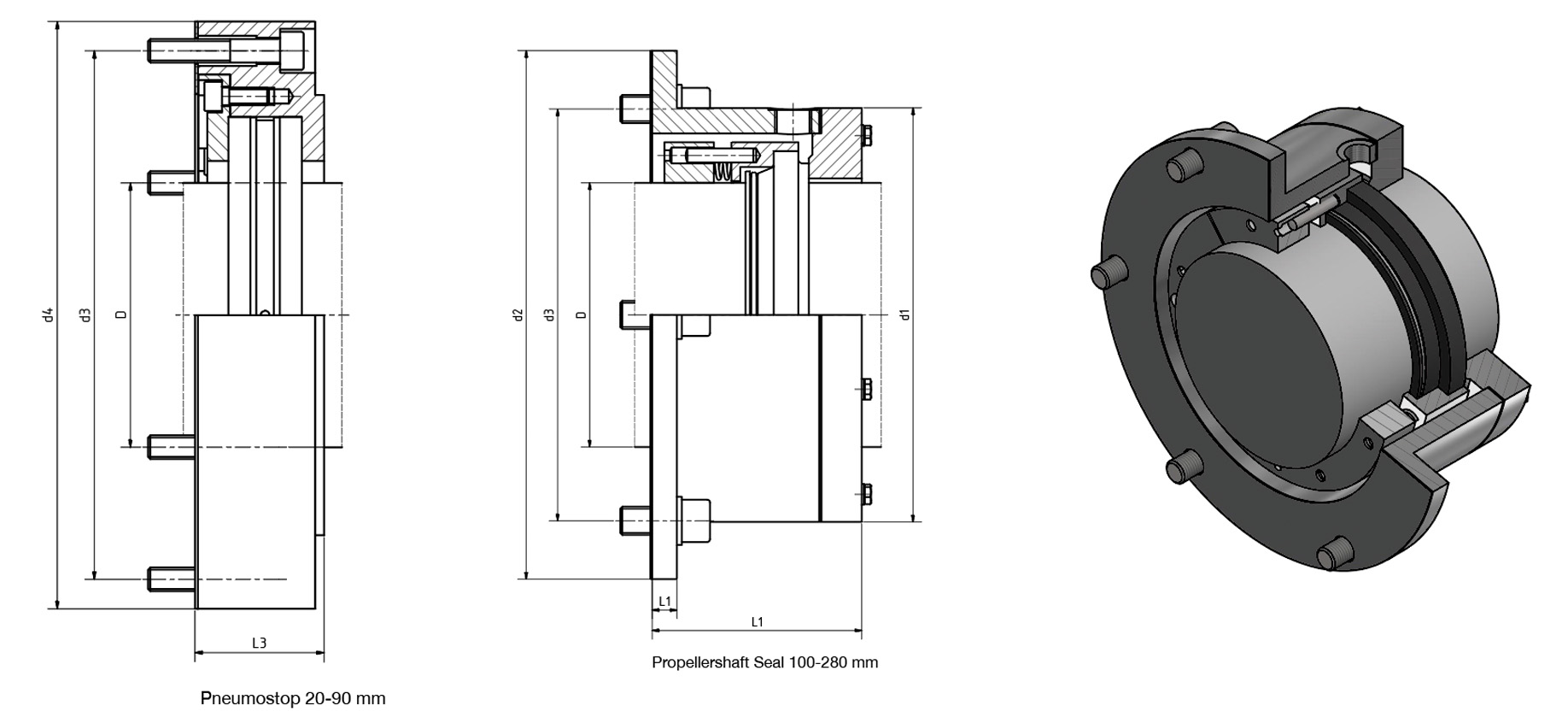 Exemplified dimensions (mm)
D
d1
d2
d3
L1
L2
L3
100
185
245
215
119
15
43
110
195
260
230

48
120
205
270
240

130
215
280
250

140
225
290
260
121

150
235
300
270

160
245
310
280

170
255
320
290

180
265
330
300
131
Other shaft sizes (D) and Imperial Sizes on Request

Optional
Pneumostop Inflatable Stand-Still Seal
Pneumostop Unit inflatable stand still seal Pmax. = 7 bar Pneumostop should not be inflated while shaft turns air inlet should normally be open

Alternative
Shaft sleeve to fit Seals to various Shaft Diameters ( not shown )